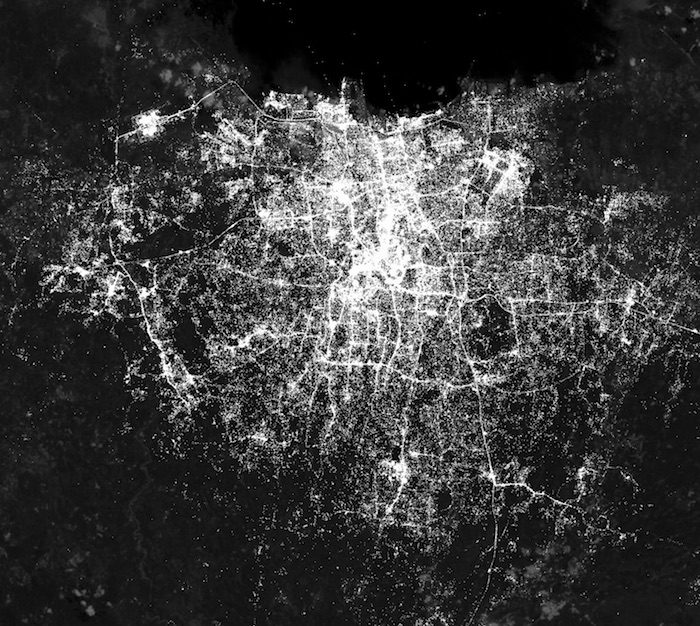 Indonesia in Foursquare: Peeking at the Economic Potential in 3 Cities
In the "Data Everywhere" era, we can do things creatively related to data availability in order to support research or just to satisfy our curiosity. As an example, some of us maybe have never gone to several big cities in the world, so that we cannot imagine the crowd condition in that city/country. Another example is a businessman that wants to open a branch or check the foreign markets. He/she wants to predict the city's condition by observing the crowd level in the destination city. How we possibly know those things without travel to the city?
Foursquare as an online social service that provides the 'check-in' feature based on gamification method by giving awards such as badge, mayor, etc. Fourquare's users feels comfortable to share their location to their close friends and can be shared through others social media such as Facebook, Twitter, Instagram, etc. The data that we produce in Foursquare is enormous and it can be categorised as Big Data.
In this article, I will present maps of several cities in Indonesia using Foursquare's 'check-in' data for the last 3 months. The white dots show people who 'check-in' in a particular location. The brighter the dot, it means the more people 'check-in' in that place. The cities that I chose are Jakarta (because we can compare with the real condition of Jakarta's crowds), Bandung (because I live in Bandung, so I can directly compare), and Malang (because this is my hometown, so I also can directly compare).
If we compare to the cities in Asia, we can see Indonesia as one of the countries that actively using Foursquare besides Japan, Singapore, Malaysia, and Thailand.
Jakarta, in the first image, shows the centre of Jakarta region, south, and Depok as the three regions with the biggest amount of 'check-in.' Also, after we zoom in (image 2 and 3) shows the 'check-in' crowdedness around Gatot Subroto street, Sudirman street heading to the north. This phenomenon is in line with the economic centre of Jakarta around the area.
In Bandung, the centre of 'check-in' crowdedness is in line with the core of economic activity of Bandung's society in the area around the city's square heading to the north.
Meanwhile, Malang (and Batu) seems in contrasts comparing to its surrounding area that relatively desolate from the crowd.
After validated with the real condition of crowdedness and density of those three cities, the mapping result is compatible. So, we can conclude that the use of Foursquare data can represent the reality such as the city's crowdedness, the centre of density, economic centre, and many more. In the economic context, this knowledge is very precious for the government though I'm sure they already have their own data regarding those terms. However, to the common people or the private industries, this insight will be rewarding.
Source:
Andry Alamsyah (MBTI Lecturer, Telkom University)