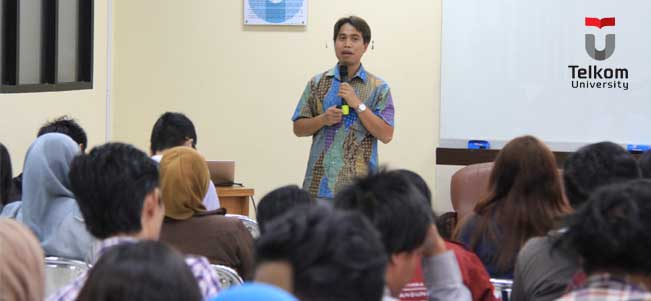 Technology and Information Crucial Role in Serving Customers
Bandung, Tel-U. Nowadays, Technology and Information (TI) has a crucial role in every aspect, such as business, entertainment, medical, education, etc. All of these things cannot be separated from the high development in the field of TI.
In terms of business, for instance, in PT. Telkom Indonesia that almost 100% has been using TI to serve their customers. Now, face-to-face interaction with the customer is not usable anymore by Telkom. However, face-to-face interaction still available for particular customer problems.
"Instead of going to the company, people can access the website when looking for the product information," said I Wayan Sukerta, ST., MSC SM Enterprise Management System Acquisition from IT Service & Solution Division when teaching a public lecture to students of MBTI, Telkom University on Monday, May 4, 2015.
He also stated that the company should be able to give experiences to their customer consistently on every channel to reach a successful TI-based service. This thing is necessary in order to satisfy the customers.
I Wayan said, "Now, Telkom has the Digital Command Center to check the customer complaints through social media. The operator in DCC will analyze and send the customer's problem to the involved unit so it can be solved immediately.