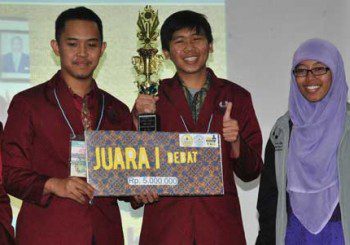 The Inferious Tel-U Debate Team Unexpectedly Won the National Debate Competition: Trilogy of Coin 2015
The Debate team from Telkom University has managed to win a trophy in the National Debate Competition: Trilogy of Coin in the tournament held from 3-6 June in the Faculty of Economics and Bussines of Soedirman University (UNSOED) Purwokerto, Central Java.
In a team consist of Mohammad Rynaldi Faisal AK (MBTI), Made Kevin Bratawisnu (MBTI), and Sari Rahmawati (IF) has managed to become champions by defeating the B team from the Universitas Negeri Semarang (UNNES), the topics of the final debate is Believing the Government of Indonesia has Implemented Effective Economic Policies in Facing AEC 2015.
The competition with the theme of Creative Economy on MEA 2015 Encounter was implementing an Asian Parliamentary System, in which all of the participants were getting 7 minutes and 20 seconds to speak, and a person from that team will be delivering a reply speech at the end of the speech. In this competition, the motion granting system consisted of preposition motion from the qualifying to semifinal stage and Impromtu Motion at the final stage.
Tel-U team must have a special strategy to achieve victory in this tournament, "every member of our team is looking for different concept and mechanism, our member will not look for the same concept and mechanism, it will be highly ineffective because this is a debate" Kevin stated. The concept was needed to direct the motion, and the mechanism was needed to ease the data searching, and then we connect both of them.
According to Rynaldi, every university teams were more competitive compared with the previous competition they have ever participated before. We were inferior at first remembering the strength of another team. But thanks to the fact that our teams had a substantial passion, we have achieved victory,
The competition was participated by delegations from UNPAD, UNDIP, UNNES, UPN, UNY, UNIBRAW, UNDIKSA, and UNSOED.
"UKM Search Telkom University built this team, we were able to achieve trophies and became champions is because of the right guidance from our friends from UKM Search" Rynaldi added. (Purel/EAD)